Shepherd is a British horror film released in 2021 and directed by Russell Owen.
After the death of his unfaithful wife, a young Scottish shepherd struggles to maintain his sanity when the past catches up with him.
---
Where To Watch?
You can watch or get the movie from here.
---
Shepherd Ending Explained and Plot Story in Details
* * * Spoiler Alert – If you haven't seen the movie yet, turn back now! * * *
Eric Black attends the funeral of his wife, Rachel, in the windy Scottish Highlands. In the distance, a dusky figure appears. Baxter, a Border Collie, comforts Eric as he wakes up in bed and realizes that it was a nightmare.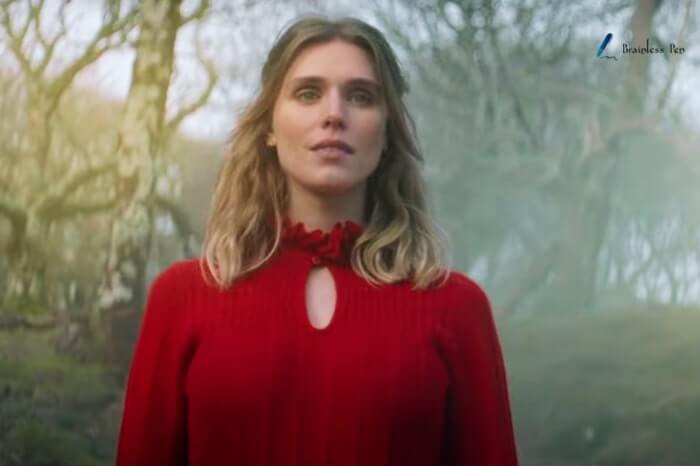 When Eric opens his kitchen drawer, he sees a crying baby inside – when he removes the pull, the drawer is empty except for a sonogram. After reading the newspaper, he notices an ad for a shepherd position on a remote island.
Eric and Baxter drive to his parent's old farmhouse. Glenys, his mother, is surprised by his return to the family. She accuses him of abandoning the family and of abandoning his faith after he connected with Rachel.
In anger over Glenys' lack of remorse, Eric leaves after she insults Rachel. Eric nearly commits suicide with a pocket knife as he drives to an adjacent lake. Rather than committing suicide, he throws away his old wedding ring.
To get to the shepherd job, Eric and Baxter take a boat to an island operated by a half-sighted "Fisher."
A gloomy, unlit lighthouse stands on the island. The lighthouse is separated, Fisher tells Eric. Eric's modern home, a remote cottage, stands next to the lighthouse. Despite the broken generator in Eric's cottage, fisher tells him that the cottage has gas lamps.
Often, the weather prevents the emergency telephone from working inside. In addition to the journal, she gives Eric a black leather-bound notebook, telling him that she will return to get supplies next Tuesday.
There are taxidermied goat heads mounted on the walls of the dusty cottage. Eric takes out an old cup that belonged to Rachel. When he discovers the water supply is cut off, he seizes a bucket and climbs up the hill to find a spring.
An antique wedding ring is on a chain he spots in the spring, which he pockets. Because of a fear of heights, Eric has trouble climbing the stairs to the bedroom at night.
Strange things begin to happen for the next few days: Eric discovers Rachel's cup already full of hot tea, which he smashes. On top of the bookshelf, he finds a bookshelf with black journals identical to the one Fisher performed.
He flips through one and marks the words "she's a witch", but does not investigate further. He observes Fisher entering and abandoning the lighthouse one day as he returns from grazing sheep. A strange rune is engraved on the lighthouse door, and it is locked when he tries it.
In the kitchen one morning, he is astonished to see his mother. He holds her as she sobs. The conversation turns to Rachel later on. While cutting a knife into her hand, she tells Eric she hopes Rachel suffered when she died.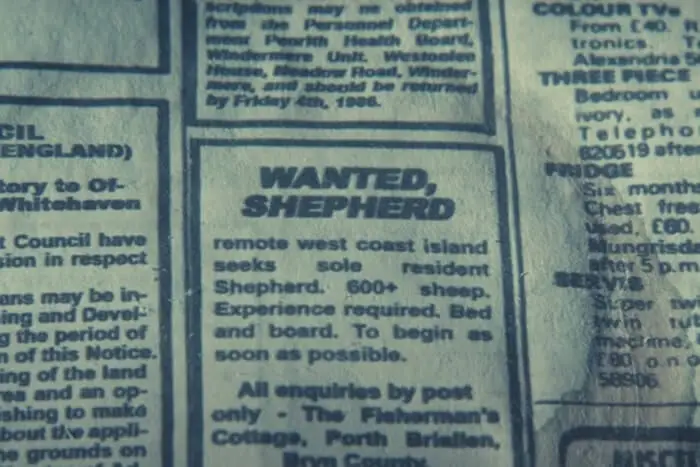 As he is getting up, Eric interrogates her to leave. As she encloses him, he discovers that this is another nightmare that he has been having.
After waking up one morning, Eric discovers that Baxter has gone missing. A call comes in from Fisher, who advises him to search for Baxter. The boy flees the cottage and follows the distant dog sounds into an impenetrable fog.
In his hurry to reach a mysterious figure at the top of a hill, he falls and hits his head. It remains nothing but a lofty rock when he does succeed in gaining it. He witnesses an ancient luxury liner in a valley, however, beyond the rock.
The dog's sounds lead him into the empty ship, but he only finds an old iron key on the floor, which he pocketed. Despite the shadowy figure appearing behind him, he doesn't turn around but instead sprints away. When he returns the next day, the ship is nowhere to be seen.
After becoming paranoid, Eric stays awake with a knife through the night. A stuffed robin is found in his wardrobe after he examines a baby crying there. Due to the familiar engraving inside the ring that he plucks from the spring, he realizes that it is his wedding ring.
Since then, Eric has been having nightmares about his wife and the mysterious dusky figure. As he smashes the ice open, he sees a baby trapped under it and tries to free it.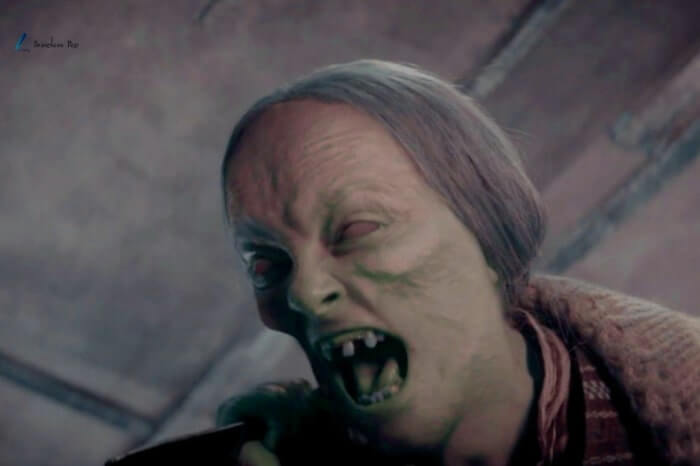 Eric successfully opens the lighthouse door with the iron key he took from the lighthouse. Stuffed birds line the stairs inside the house. To overcome his fear of heights, he climbs to the top where he illuminates the lighthouse with Rachel's lighter.
Fisher is distressed by this as she watches from her boat. After he leaves, he sees something horrific. In front of the cottage are all the flayed sheep. When he sees Baxter among them, he is distraught. The next day, however, they all disappeared.
A call comes in from Fisher to Eric. Even though he says he wants to go home, she says he is where he needs to be. A while later, he picks up a journal and looks through it.
There is a drawing of a figure holding a lamp to lure a ship onto rocks, titled "The Wrecker." After skimming the next page, he discovers a drawing of Baxter.
During the next day's play, Eric knocks over a fuel can for the malfunctioning generator. In the kitchen, his wife appears distorted. In response to the confrontation, he fires Rachel's ancient lighter at the fuel spill, setting her and the cottage ablaze.
Running outside, he notices Fisher's boat off in the distance. Despite his efforts to get her attention, she is making a stuffed bird and deliberately ignoring him.
Having run out of options, he swam out to the boat but, as he sank into the water, the ghostly hand grabbed him by the ankle, preventing him from getting out.
A dog, who may be Baxter, and two unclear figures come running to extricate him from the shore. In the following interview, he is unable to provide any identifying information about Fisher.
In his confession, he admits to killing his wife. His confession revealed that he was drunk when he drove her and her companion to the cliff's edge on the day of her death. His inability to stand on the cliff made him leave. Rachel, who was pregnant at the time, was still inside when it became unbalanced and fell over.
Upon leaving the room, the officer's phone rings in the interrogation room. The call ends with Fisher's bloodied hands on the other end of the line, as Eric recovers.
She replies that she has insurance, but he says he told the police everything. Her actions indicate that she has framed Eric for her murder by picking up Eric's pocket knife and visiting Glenys in her home.
As Eric puts down the phone, the lights go out in the room. As Eric unlocks the lighthouse door, he emerges out of the lighthouse into bright light and the sounds of the island.
Summary
Original Title Shepherd
Genre Horror/ Supernatural/ Drama/ Mystery
Runtime 1hr 43min
Original Language English
Directed by Russell Owen
Written by Russell Owen
Tagline 'Red Sky is Mourning.'
Release date October 14, 2021 (United Kingdom)
Origin Country United Kingdom
Brainless Pen Rating!
Cast of Characters
| Actor/Actress Name | Character Name |
| --- | --- |
| Tom Hughes | Eric Black |
| Gaia Weiss | Rachel Black |
| Kate Dickie | Fisher |
| Jamie Marie Leary | DI Carol Thomas |
| Greta Scacchi | Glenys Black |
Official Trailer
---