Speak No Evil (2022) is a psychological horror film directed by Christian Tafdrup. If you're looking for a movie that'll challenge your preconceptions and make you think, Speak No Evil is the perfect film. With its dark subject matter and twisty plot, it's no wonder the film won't be easy to follow, but the payoff is worth the trouble.
---
Where To Watch?
You can watch or get the movie from here.
---
Speak No Evil Ending Explained and Plot Story in Details
* * * Spoiler Alert – If you haven't seen the movie yet, turn back now! * * *
Danish couple Bjørn and Louise with their young daughter Agnes. Bjørn and Louise, a Danish couple with their young daughter Agnes. They meet Patrick and Karin, a Dutch couple, and their son Abel. A few weeks later, back in Denmark, Bjørn gets an invitation from the Dutch couple to visit their small rural house.
After eight hours of driving, Bjørn , Louise, and Agnes arrive at Patrick and Karin's house. During the first two days, Louise feels uncomfortable about Patrick's passive-aggressive behaviours. After learning that the children are not coming, Karin insists on leaving Agnes with Abel's babysitter, Muhajid.
Louise's concerns are exacerbated as Patrick rechallenges her vegetarianism, followed by the couple making out drunkenly in front of them. On the way home, Patrick repeatedly plays loud music while driving under the influence and upsets Louise. After Louise finds Agnes sleeping on the bed between Karin and a naked Patrick, she wakes her husband and insists on leaving.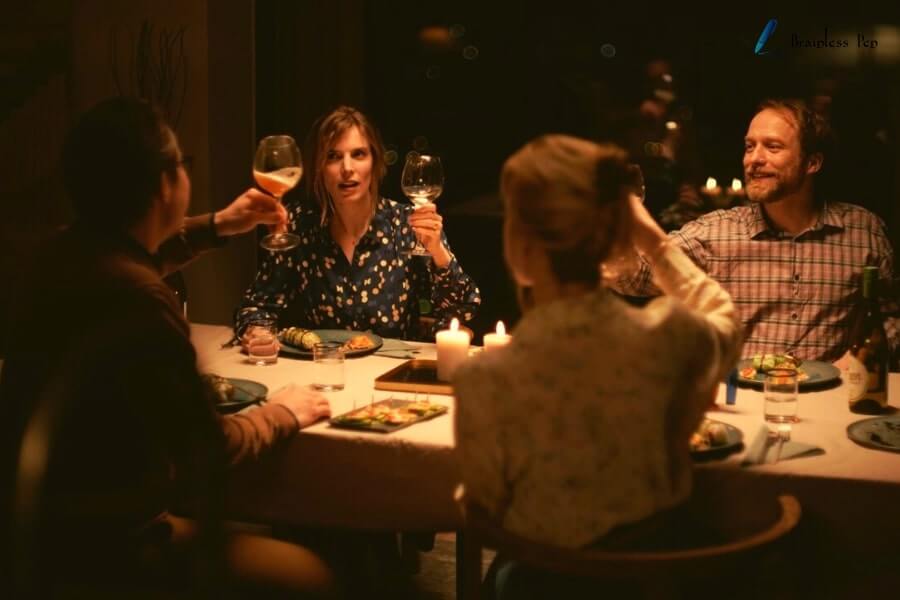 They eventually convince the hosts to allow them to stay for one more day. Louise helps Karin work in the yard while the men drive to buy groceries.
Bjørn learns that Patrick lied about being a doctor when they first met. As they continue to bond, he tries to hide his true personality from him and the rest of the family.
He and Louise first hear the sound of Abel's moaning, which suddenly stops after Patrick visits the boy's bedroom. Other voices draw he into a room, where he finds images on the wall depicting Patrick and Karin with other couples on holidays, the same as them.
Bjørn van der Molenbeek and his wife, Agnes, are accused of murdering their child Abel by cutting off the child's tongue to silence them. As he rushes to wake Louise and Agnes in the morning, Bjørn finds Abel's body drowned in the pool; he takes his family in the car and drives without telling them.
Patrick and Karin kidnap he and Karin after their car breaks down. Bjørn leaves his family in the car to search for help and returns to find that his wife and daughter are missing. He begs for his family's safety as Patrick forces him into his car.
For the sake of Louise and Agnes' safety, Bjørn remains silent about what is happening inside the car.
Muhajid Abubaker Bhattacharjeeb, a Muslim cleric from Saudi Arabia, and his wife Karin cut out Agnes's tongue with a pair of scissors while her husband Patrick held her mouth shut.
A mute Agnes is forcibly playing the role of the Dutches' daughter as the couple target another vacationing family for their subsequent potential murder. They are then forced into a ditch, where they are subsequently stoned to death.
In the end, does Agnes survive?
It is possible that Agnes would wish that she hadn't survived the end of Speak No Evil. Bjørn sneaks outside after hearing Patrick beating Abel and discovers the boy's dead body. Abel's tongue was cut out by Karin and Patrick, who are sadistic criminals who intend to do the same to his family. Patrick does not hurt Louise and Agnes after Bjørn finds him with them. It is Patrick's lie that his family will not be harmed if he follows what he says. Before Patrick drives them to an empty quarry, he and Louise watch helplessly as Karin cuts out Agnes' tongue and takes the child away. Louse and Bjørn were stoned to death by Patrick and Muhajid.
Speak No Evil Ending Twist Explained
Bjørn discovers an attic room filled with holiday photos in a building separate from the main house. Patrick and Karin are pictured with different couples and children in each picture.
Abel was found floating face down in Patrick's swimming pool. As Patrick and Karin continue their conversation, it becomes clear what they are doing. They kill couples they meet on holiday and use their children as bait for their subsequent killing.
In their scheme, the parents are murdered, the child's tongue is cut out so it cannot speak, and they take them on holiday. To keep the cycle going, target another couple with a single child.
Patrick makes it straightforward for Bjørn that he did what he did because they let him. The two obey his instructions without even flinching. There are two players versus two players. It's too late for Agnes. If they want to, they can take them on. Patrick and Karin destroy their spirits, so they cannot lift a finger.
A family of three living in a world of Speak No Evil are destined to die because of grace and politeness alone. Bjørn fear of conflict disfigures a small child, another is murdered, and two adults are stoned to death as punishment for their fear of conflict.
As Patrick walks into the woods for a bathroom break, he leaves the car running and is given a free pass by Speak No Evil's ending. The keys are now in Louise and Bjørn's hands so they can drive away. It would be great if they would take a risk and fight back. However, they don't, and the critically acclaimed 2022 horror film once again drives home its transparent moral message.
How and why did Patrick and Karin kill Bjørn and Louise?
"Speak No Evil" is a cautionary tale that teaches us never to take a stranger's invitation without a proper background check. Patrick and Karin would eventually kill Bjørn and Louise, and it was just a matter of when and where. It was a classic example of a sinister serial killer or predator who enjoyed toying with his prey's psyche before eventually murdering them.
At the end of "Speak No Evil," Bjørn went inside the shed where he saw numerous luggage bags, cameras, and photographs of different families clicked together with Patrick and Karin.
Patrick and Karin used a child as bait to lure their victims into their traps. The child's tongue was removed so the child wouldn't be able to warn their next victims about their true intentions. It also explains Patrick's abusive relationship with Abel, who was just a mere trap to catch a new pair of victims.
After Bjørn witnessed the photographs in the shed and Abel's dead body floating in the pool, he decided to drive away from the monstrous couple. However, Patrick followed him like a predator, forcing him to drive off-road to lose the car.
Bjørn's car got stuck in a ditch, and he begged Patrick to let his family go. Patrick took away Louise and Agnes, and Bjorn tried to find them. Karin used a pair of dull scissors to cut off Agnes's tongue to use her as their next bait.
After killing Agnes, Patrick and Karin brought Bjørn and Louise to an isolated quarry. They asked them to remove their clothes to get rid of their DNA samples if any. When Bjørn asked why he was killing innocent people, Patrick replied that he was only doing it because his victims would let him.
Before dying, Bjørn apologized to Louise for bringing upon his own family's death. Only if Bjørn , a civilized man, had dared to raise his voice against his perpetrators, the fate of his family would have been different. Even at the film's end, Bjørn fails to leave behind his pretentious and civilized nature.
What was the reason for Bjørn's failure to stop Patrick?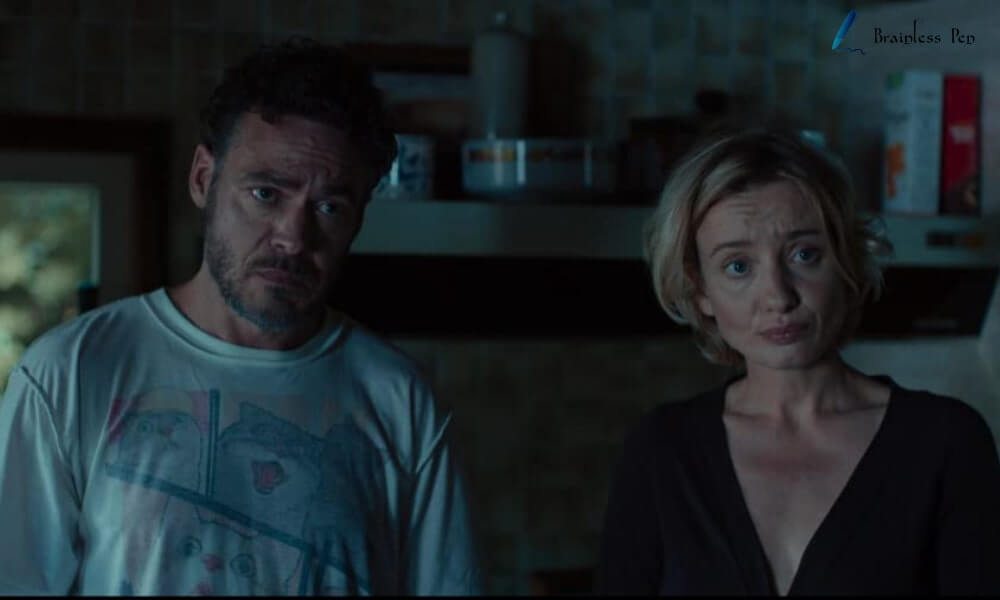 While it is somewhat understandable that Bjørn and Louise may feel compelled not to mention their hosts' erratic behaviour. It is hard to believe the characters' inability in the first two acts of Speak No Evil to act rationally towards the end of the play.
Bjørn 's politeness is his fatal flaw in most of Speak No Evil's positive reviews. Louise, Bjørn , and their child are ultimately doomed due to Bjørn's overly permissive attitude. The explanation, however, does not make sense. Bjørn 's deep-seated inability to act in his best interest is easily discernible from his usual social graces and kindness.
Speak No Evil's Ending: What Does It Mean?
In Speak No Evil, grace and politeness are enough to doom a family of three to death. A small child is disfigured, another is murdered, and two adults are stoned to death because Bjørn is too afraid of conflict. The movie's ending gives Patrick a free pass despite doing most of the murder and torturing. Despite its provocative horror scenes, Speak No Evil's ending reaffirms a fundamentally conservative worldview. Bjørn fails because he is not enough of a traditionally masculine hero at crucial moments. The wealthy heroes are killed for the crime of simply being too friendly, decent, and polite.
Patrick makes Bjørn sound relatable due to their common disinterest in technology. He also shows the kindness of his house by making Louise eat meat right in front of him. And he administers the final blow the metaphorical one after taking him to a quarry.
Summary
Original Title: Speak No Evil
Genre: Psychological horror/ Thriller
Runtime: 1hr 37min
Written & Directed by Christian Tafdrup
Release date: March 17, 2022 (Denmark)
Origin Country: Denmark, Netherlands
Brainless Pen Rating!
In the end, despite all the misdirection that Speak No Evil is subjected to, the movie's ending serves as a screed against the dangers of politeness and pacifism.
---