47 Meters Down: Uncaged (2019) is a survival horror film directed by Johannes Roberts. This is a single stand sequel of 47 Meters Down (2017), mean its plot story is not connected with the first one. However, the movie 47 Meters Down: Uncaged has a very promising ending which makes me influence to write this article.
47 Meters Down Uncaged Ending Explained and Plot Story in Details
* * * Spoiler Alert – If you haven't seen the movie yet, turn back now! * * *
The movie begins with an indication of the bad relationship status of the two stepsisters, Mia and Sasha. They are the two main characters of the film. Their relationship is so bad that Sasha doesn't protest when Mia is bullied into a swimming pool.
Mia's father, Grant, is a cave diver, and he found a tooth of a white shark on his expedition near their house. He gives it to Mia.
Grant is aware of the two sisters' mental distance and tells them to go on a boat to see sharks. Sasha was planning to go with her friends that day, but she didn't deny Grant's words.
Mia and Sasha arrive on the boat for their tour. But Mia becomes obsessed seeing her bully Catherine and her friends also on the ship. What a lousy day! By the way, Sasha's friends Alexa and Nicole take the sisters to a secret lagoon to have a fun day.
The group of teen girls finds a submerged Mayan city deep in the lagoon. This is a horror movie, so they go down to the town, and Nicole accidentally knocks on a stone column that blocks the exit tunnel.
The girls become separated and lose drops the guideline. The situation turns darker and more intense when a giant white shark appears in the scene.
In the course of circumstances, Grant unites with groups. But within a short time, Nicole is taken by sharks. They are now stuck in an air pocket.
To escape, Grant suggests swimming even deeper to find another exit. They could be let out into the ocean in this way. But suddenly, a shark kills him.
Through many troubles, discovering a new tunnel, and many dramatic stunts makes, Sasha and Mia reach the ocean. They start swimming towards it and realize this is the campaign boat they left behind in the morning. Thus, the campaign is for seeing sharks, so naturally, they are chumming the water to attract sharks. More sharks are attracted to that area as a result of that chumming.
They try to signal it for help, but because of loud music playing, people on the boat can't hear SOS messages.
Mia and Sasha bang on the glass so the guests can see them. This helps, and then all crew alerts to rescue them. In the middle of this, sharks are attacking Mia and Sasha, which is a terrifying scene for the people on the boat.
Mia makes it up on board with the help of the crew. However, a shark manages to grab hold of Sasha and pull her into the water. When Mia sees that Sasha is in danger, she grabs a flare gun and jumps into the ocean to save her.
Mia fires on just the shark's face, and it releases her. They are almost back on the boat, but another white shark pulls Mia back into the water. But she is not ready to give up yet. She starts stabbing the shark's side by Grant's given tooth and can free herself. As another shark approaches, the people on the boat pull Mia in. Sasha and Mia happily hug each other, and they are shocked. Catherine watches them & their bravery-marked wounds. Her expression clearly says she is saying in mind that "Who have I rebuked, who fights with Sark and returns victorious?"
The movie ends with this happy ending.
Does Mia survive at the end of 47 Meters Down Uncaged?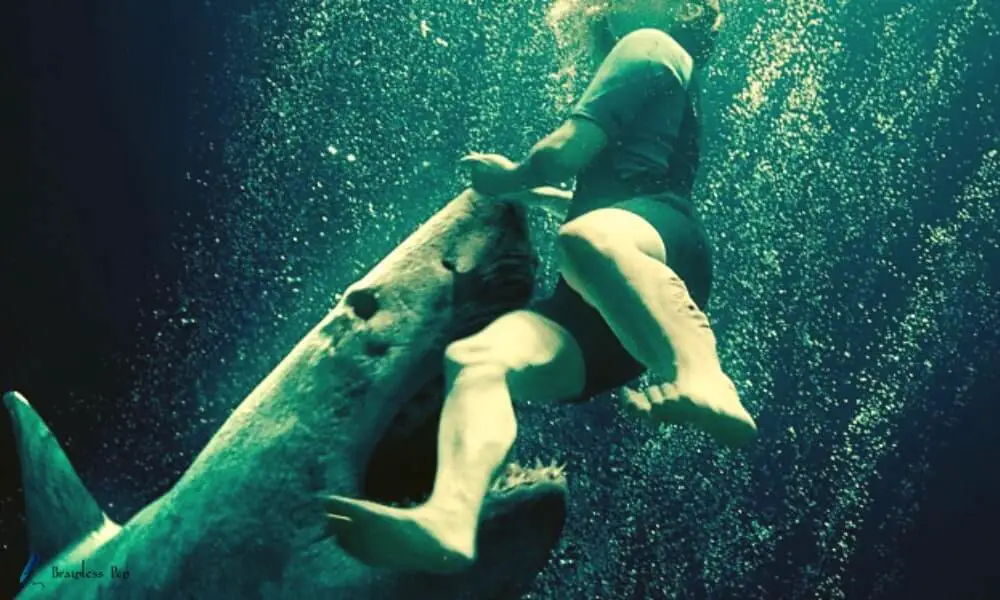 Yes, Mia survived at the end of the film and the character is played by Sophie Nélisse.
After rescuing Sasha from the shark by firing a flayer gun, Mia is caught by another shark. But she fought back with her gift white shark's tooth, which she got from Grant. Mia brutally stabs and slices the shark's side, and it works. The shark let her free. Then she was pulled by the tourists and crews of the boat. This is how Mia survived at the end of 47 Meters Down: Uncaged.
What is the actual meaning of the ending of 47 Meters Down: Uncaged (2019)?
The actual meaning of the Johannes Roberts's 47 Meters Down: Uncaged is building up the relation between two stepsisters. At the movie's beginning, they are shown as two poles of a magnet who never attract each other. Mia was bullied by other girls and thrown in the poll, but Sasha didn't protest her. In the end, the same kind of situation was raised but from the opposite direction. Sasha got into danger in the ocean, and Mia got a choice to save her or not. But she saved Sasha by taking the risk of her own life.
Another essential signifier appears at the movie's end: "bully is as dangerous as the white shark in the water." The opening poll scene and the ending rescue scene equalize them. As a shark can takes our lives, a bully can kill us (and our children) too.
Therefore, 47 Meters Down: Uncaged (2019) teaches and inspire us to care for each other and protect bullies.
Summary
Original Title: 47 Meters Down: Uncaged
Other Titles: 47 Meters Down: The Next Chapter (USA)
Genre: Survival/ Thriller
Runtime: 1hr 30min
Original Language: English
Directed by Johannes Roberts
Written by Ernest Riera, Johannes Roberts
Tagline: Fear Runs Deep.
Release date: August 16, 2019 (USA)
Origin Country: United Kingdom, United States
---
47 Meters Down Film Series
2. 47 Meters Down: Uncaged (2019)
---