Umma (2022) is a supernatural drama horror movie written & directed by Iris K. Shim.
In Korea, the word 'Umma' means 'Mother' and the movie Umma (2022) is a story of two mothers. The movie got a thin narrative between Korean mythology, culture, and family relationship; but the ending did not grab adequate attention as critics expected. There is a lot of lack in the end which demands many to explain.
---
Where To Watch?
You can watch or get the movie from here.
---
Umma Ending Explained and Plot Story in Details
* * * Spoiler Alert – If you haven't seen the movie yet, turn back now! * * *
The movie starts with a single mother Amanda and her daughter Chrissy (everyone calls her Chris). They live separately in a rural area without using any modern technologies. Because Amanda has an allergic problem with electricity.
They farm bees and sell honey to Danny. Then Danny collects the honey and takes it to town to sell.
One day Mr. Kang comes to their house and reveals that Amanda's mother died a few days ago. She wanted to see Amanda many times in her last days.
Through their conversation, we learn Amanda ran away from her mother as a child. Then came here and started living.
Mr. Kang gives her mother's cremated ashes in a suitcase. This time some scenes from her's past are shown. It is known that Amanda's Umma used to torture her a lot. This time some scenes from Amanda's past are shown. And basically because of this, electricity anxiety is created in Amanda. As a result, she cannot tolerate any electrical appliances.
From that night several unusual incidents start happening in the house.
Amanda begins to see you of her Umma. She intimidates and annoys her. In some cases, Umma creates a situation where the relationship between Amanda and Chris deteriorates.
For example, Chris brought home the college admission form. Amanda didn't know that, though she was against it. But Umma's ghost destroys that form. Which makes Chris think Amanda did it. As a result, their relationship worsened.
But soon Chris learns about Umma's presence. Then one-night Umma attacked her to harm her. Amanda then manages to rescue Chris somehow.
Meanwhile, Amanda and Umma have a psychotic discussion. Through this, the distance between mother and daughter decreases. They understand each other. Umma says she loves Amanda very much and understands her cruelty.
Amanda then performs a Jesa ritual for her deceased mother according to Korean culture. And through this, the Umma's spirit is liberated.
At the end of the movie, Amanda agrees to admit Chris to college. And this ends the chapter of the oppressed Umma.
What happened to Amanda's father & mother (Umma)?
Umma was a renowned dressmaker in Korea. Umma and her husband (Amanda's father) moved to America. But in the new place, Umma's mental condition got worse day by day. At an unbearable stage, Amanda's father left the family. This triggered Umma to be a violent mother to little Amanda. She started torturing her when she disobeyed Umma with a fired electric lamp and was imprisoned in the basement of the house. Later Amanda fled from her mother and started a new life in a rural area.
What is the nine-tailed fox in Umma (2022)?
At one point in the movie, Amanda sees a nine-tailed fox. Korean mythology is called Kumiho.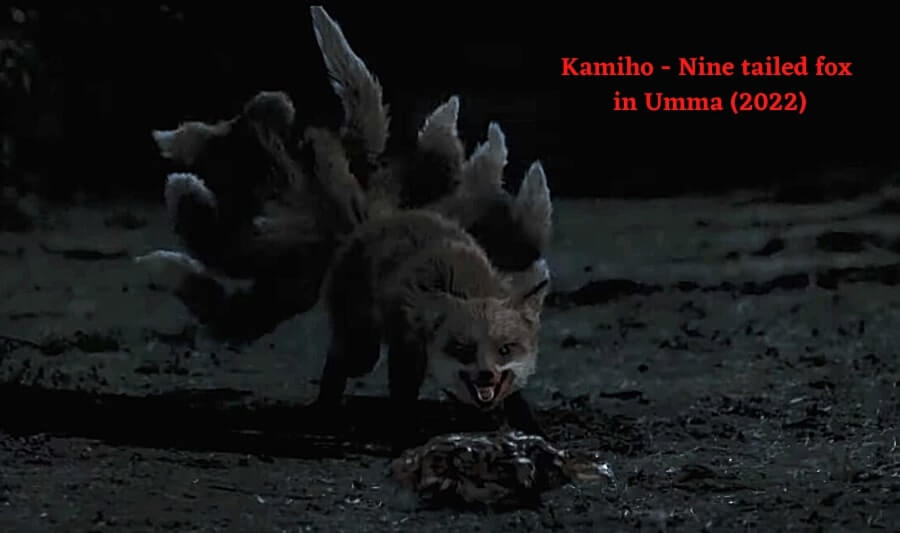 Korean folklore has it that Kumiho is a fox that lives for a thousand years. Although not a direct deity, it is very powerful.
Kumiho can change shape and assume the form of a woman. That woman is so beautiful other men are attracted to her. Kumiho eats the hearts and flesh of those men.
Kumiho's direct connection to Umma is not shown in the movie. But there are some indications. For example, the hanbok that was given with Umma's cremated ashes had a picture of Kumiho painted on it. The living mask that accompanied her was called Tal. Different types of Tal have different meanings. But the Tal shown here seems to imply any agreement.
Thus, it can be said that there was probably an agreement between Umma and Kumiho. By whose power, Umma's spirit was able to approach Amanda. However, although many movie critics support this theory, no solid reasoning can be shown behind it.
What did Umma want from Amanda?
Umma was a tormented soul who desperately wanted her daughter's love till death. But she died without getting that love because Amanda fled.
After Umma's death, she wants to realize Amanda, and how it feels when her daughter makes distances herself from her mother. So, she tries to make things ugly between Chris & Amanda.
But Umma also wants to be in peace for her soul. So, she wanted to perform Amanda a Korean ritual called Jesa. By this, it symbolizes that Umma wants Amanda to capture their culture in her heart and perform for them, and at the end of the movie she succeeds.
Summary
Original Title: Umma
Genre: Supernatural/ Horror
Runtime: 1hr 23min
Original Language: English, Korean
Written & directed by Iris K. Shim
Tagline: A Mother's Love Never Dies.
Release date: March 18, 2022 (USA)
Origin Country: United States
Filming locations: California, USA
Brainless Pen Rating!
Cast of Characters
| Actor/Actress Name | Characters Name |
| --- | --- |
| Sandra Oh | Amanda |
| MeeWha Alana Lee | Umma |
| Fivel Stewart | Chrissy/ Chris |
| Dermot Mulroney | Danny |
---