Brainless Pen Rating!
---
Cast of Characters
| Actor/Actress Name | Character Name | Description |
| --- | --- | --- |
| Zach Gilford | Riley Flinn | Depressed and stressed man, son of Ed & Annie |
| Kate Siegel | Erin Green | Single woman and old girlfriend of Riley |
| Hamish Linklater | Father Paul Hill | New Prist of the Church |
| Samantha Sloyan | Bev Keane | Sister of the Church |
| Henry Thomas | Ed Flynn | Father of Riley & Warren |
| Kristin Lehman | Annie Flynn | Wife of Ed Flynn |
| Igby Rigney | Warren Flynn | Younger brother of Riley |
| Rahul Kohli | Sheriff Hassan | only lawman of Crockett island |
| Rahul Abburi | Ali | Son of Sheriff |
| Michael Trucco | Wade | Mayor of the island |
| Crystal Balint | Dolly | Mother of Leeza |
| Annarah Cymone | Leeza | Daughter of Mayor Wade |
| Annabeth Gish | Dr. Sarah Gunning | Doctor of the island |
| Alex Essoe | Mildred Gunning | Mother of Sarah |
| Ebony Booth | Tara-Beth | The girl who died for Riley |
| Robert Longstreet | Joe Collie | Drunk man |
Midnight Mass Season 01 Episode 06 Recap
* * * Spoiler Alert * * *
Erin is still in the boat and tears are streaming down her face. Fortunately, she has managed to return to Crockett Island.
Erin then goes to Sarah's house and tells the whole story. It seems that Sarah has already guessed what happened. Sarah tells Erin a story of a scientist. During the 1940s, a Hungarian physician discovered that infant mortality at a higher-class hospital was very high. He suggested that handwashing might be a factor in the high death rate compared to a teaching hospital. His idea was quickly scorned by the scientific community.
In addition to telling Erin about Millie's miraculous recovery, she shows her what happens to her blood sample when sunlight hits it. When Erin sees Millie, she is even more shocked. Millie is now just a young lady.
Bev is in Father Paul's house. He tells her that Riley is gone and he can feel it. Paul looks sad but Bev is Bev. As usual, she dismissed it condescendingly. He wasted a gift he was given after all, as the wages of sin are death. It's also impossible to know who he talked to after all. After all, Judas was also a part of God's plan.
Bev reminds Paul to keep his faith. She also suggests that they should share everything at Easter Vigil.
Paul and Ed talk about Riley at Ed's house. He left Ed a note that is full of strange and weird things. As of the last couple of days, no one has seen Riley.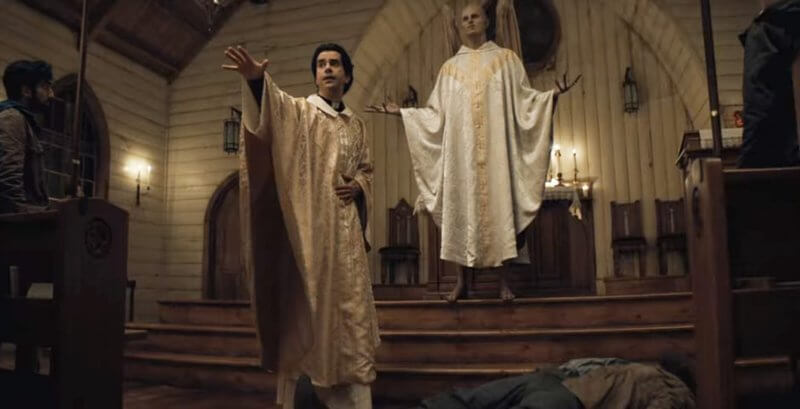 The letter also said some crazy things about Father Paul, and Paul tried to play it cool. Paul becomes a little bit angry and says Ed is right; Riley wasn't well, but maybe he took the ferry to the mainland.
Before leaving, Ed hands Paul another letter, one addressed to Monsignor Pruitt. As Paul opens the letter, it reads,
Remember we are dust, and to dust, we shall return.
Father Paul rolls up the letter.
Erin tries to convince Riley's parents to go to the mainland with her, but Annie declines due to tonight's Easter Vigil. The family wants to attend the midnight mass. She asks Erin to tell her son to come home because she is worried about him. Annie doesn't believe Erin when she tells her Riley is dead, telling her he wanted his family safe, but she even seems angry, telling Erin to leave.
When Sarah visits Sheriff Hassan, she tells him she will contact some of her colleagues to assist, but she wants him to look into the situation at St. Patrick's. He is not very enthusiastic when she asks him how he ended up on Crockett Island.
After 9/11, he became a police officer in New York. After rising through the ranks, he got married and had a child. He was a Muslim detective fighting terrorist, but he started to see how Muslims were being treated unfairly. His career suffered when he voiced his concerns. He had to return to uniform, and no one trusted him.
When his wife died of cancer, he escaped as far away as possible, taking Ali with him. Now he lays low and does not even carry a gun, but he still suffers from distrust, especially from Bev.
Sarah, Millie, and Erin discover that both of the ferries that run to the midland are being repaired, and Sturge says they will be back tomorrow. Sarah asks the fishing boat if they can take her over, but what a coincidence! Sturgis is tuning up the boats, so they're not available either! He reminds them about the Easter Vigil before they leave.
In the middle of Hassan's online preparations for Riley's missing person's report, the power goes out. He calls Sturge, who is shutting the power down with Wade. In addition to hiding the boats, Wade plans to turn off the cell tower later.
Sarah and Millie say they will not attend Easter Vigil, but Erin says she will. Riley gave up his life for Erin to help, so how can she stand in her way?
He asks his father if he can come with him to Midnight Mass. He hears that tonight they are going to witness a miracle.
In the beginning, Bev, Wade, Dolly, and Leeza hold candles and sing a hymn as they make their way through the village, inviting others to join them. After watching them through Erin's widow, Sarah and Millie went out and joined the parade. The movie opens with a beautiful shot of Sturge watching the townspeople walk in the dark with their candles, then he shuts down the cell tower.
As the parishioners approach the church, we can see that it has been lit with candles, and Paul begins his sermon. As we see Hassan with Ali, we see Ed not participating in the hymn, he seems to now think something is wrong.
Paul admits that he lied to them. Instead, Pruitt was made whole, young, and well, "the same as all of you." Through God, he says nothing is impossible,
An angel came to me, and I was restored.
Not only that, but he tells them he brought the angel with him. He says we will be tested tonight. Despite their fears, he assures his congregation that "If you follow me – us – Him – He will give you eternal life.". However, there is a cost."
Sturge is called up, and Bev brings out a chalice; we see cans of rat poison along with dozens of cups, and we get an idea of where we're headed. As Father Paul says, "Death will be no more," Bev gives the chalice to Paul, who presents it to Sturge. As the man coughs, convulses, and dies, he supports him. The congregation is stunned.
The horrifying angel in a priest's robe, clad in a priest's robe, catches Hassan's attention as he tries to head for the exit. In reciting scripture, Paul refers to the angel as God's messenger. "An angel of the Lord appeared to them, and they were terrified. We are terrified when an angel appears."
Bev smiles reverently and Sturge gets up as the angel extends his wings to the congregation. Bev passes the cups around. Hassan tries to leave again with his son, but Ali resists, as Paul pleads with him to go with them. Hassan pulls out his gun and shoots it into the ceiling before being taken down to the ground and held there. She tells him how shocked she is that he attempted to enter the house of God with a firearm. Ali drinks and collapses while Hassan is held down on the floor. As he watches his son die, the Sheriff wails, and then nearly everyone drinks from their cups.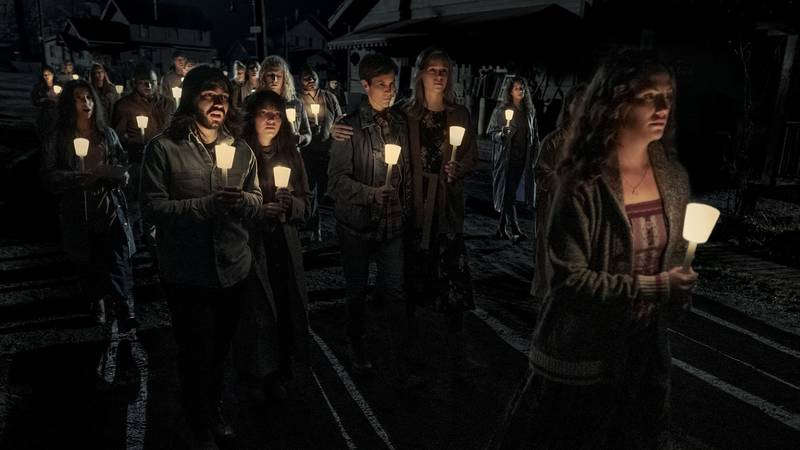 We see Ooker drink from him, but Ed, Annie, and Warren refuse to drink, and Leeza is dragged away by Warren. Leeza begs her parents not to drink, but they tell her everything will be ok. During the chaos, Millie picks up Hassan's gun and shoots Paul in the head. She is enraged, and the angel grabs her and rushes out the door. The men take Hassan out outside, "we'll need food soon." She tells them to take Hassan out outside, "we'll need food soon."
The next moment, Bev notices Sturge peering at the blood she is covered in from attending to Paul, and she gets a little uneasy. Ali rises, followed by the other townspeople who participated in the awful Communion.
Millie drops a gun, and Erin grabs it, and those who drank the poison begin attacking those who did not, feeding on their blood. Erin, Sarah, Millie, Hassan, Warren, Leeza, and Annie can go through the back of the church, but Ed is bitten.
In the backstage area of the church, our heroes encounter Bev, who is hiding. Bev says those things don't matter in this new world, this world without death when Erin points the gun at her. "You could shoot me right now, but that would just mean I'd be five minutes behind you."
In one of the most satisfying scenes of Midnight Mass, Erin shoots Bev in the chest, then says, "We have five minutes." They leave, and we see Bev raising her head to admire the candlelight. As she enters the church, she observes the carnage; Paul is still lying on the floor, alive but confused.
Bev tells Sturge to open the doors, but he says the Monsignor said they should close them before everyone woke up so they could be guided, so this wouldn't happen. Nevertheless, bossy Bev insists, so Sturge opens the church doors.
Episode 06 ends here.
---
Recap of all episodes of Midnight Mass
Midnight Mass Book I Genesis (2021) S01 E01
Midnight Mass Book II Psalms (2021) S01 E02
Midnight Mass Book III Proverbs (2021) S01 E03
Midnight Mass Book IV Lamentations (2021) S01 E04
Midnight Mass Book V Gospel (2021) S01 E05
Midnight Mass Book VI: Acts of the Apostles (2021) S01 E06