Brainless Pen Rating!
---
Cast of Characters
| Actor/Actress Name | Character Name | Description |
| --- | --- | --- |
| Zach Gilford | Riley Flinn | Depressed and stressed man, son of Ed & Annie |
| Kate Siegel | Erin Green | Single woman and old girlfriend of Riley |
| Hamish Linklater | Father Paul Hill | New Prist of the Church |
| Samantha Sloyan | Bev Keane | Sister of the Church |
| Henry Thomas | Ed Flynn | Father of Riley & Warren |
| Kristin Lehman | Annie Flynn | Wife of Ed Flynn |
| Igby Rigney | Warren Flynn | Younger brother of Riley |
| Rahul Kohli | Sheriff Hassan | only lawman of Crockett island |
| Rahul Abburi | Ali | Son of Sheriff |
| Michael Trucco | Wade | Mayor of the island |
| Crystal Balint | Dolly | Mother of Leeza |
| Annarah Cymone | Leeza | Daughter of Mayor Wade |
| Annabeth Gish | Dr. Sarah Gunning | Doctor of the island |
| Alex Essoe | Mildred Gunning | Mother of Sarah |
| Ebony Booth | Tara-Beth | The girl who died for Riley |
| Robert Longstreet | Joe Collie | Drunk man |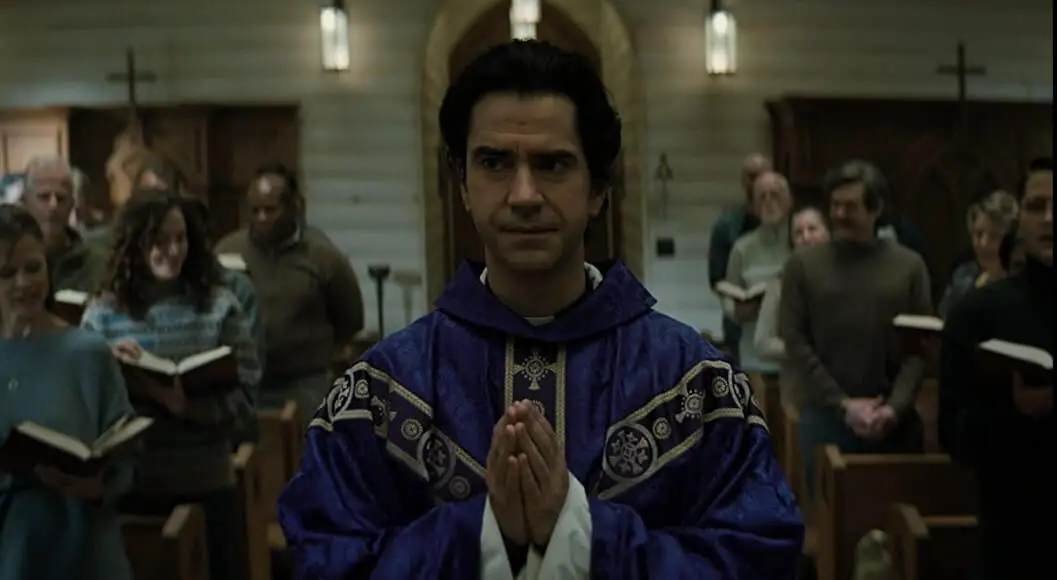 Midnight Mass Season 01 Episode 03 Recap
*** Spoiler Alert ***
Bless me, Lord, I have sinned.

No, that's not right.

Bless me, Lord, for I am going to sin.

Tomorrow morning, I'm going to introduce myself to the parish and lie to them about Monsignor John Pruitt.
In the opening scene of Midnight Mass episode 3 Father Paul is in an empty confession room. He is confessing towards God and about to tell his hidden story. He says that he is going to tell lies about Monsignor Pruitt that he was suffering from a severe level of dementia and he lost on the first day at Holy Land Jerusalem. Father Paul wants to prepare the parish for the miracles coming in the near future. At this point, you will find that something really strange is going on the Crockett Island and it hooked you up.
The scene back to the church in the moment of the first public miracle of Leeza. That moment Father Paul begins to cough and back his house with stumbles. Father Paul vomited blood into the sink. Bev followed Father and saw everything.
Scene changes to Sarah who is checking Leeza and is baffled about the incident. She is puzzled because there is no medical evidence defining this type of incident. Sarah wants to run some further tests on the mainland so that she can understand what is happening to Leeza's body. But the Mayor denies that and says that he feels wrong to interrogate a God's miracle.
On the other side, Father Paul continues private mass for Mildred at her house and you see she is noticeably improving. Mildred now can walk upstairs and remember her daughter and also her hair is becoming black than before.
The same minor improvement is happening at Flynn's house. Annie doesn't need glasses anymore and Ed also felt relief from his back pain. Leeza is also improving very rapidly. She can now run and dance with Warren. We find that they are in love.
Riley and Erin also become close again. Riley starts to live at night at Erin's home. They seem happy again like almost all the residents. But that's the beginning of the nightmare which no one can imagine how terrified it is.
Riley and Father Paul continue their meeting and Riley asks Father about how the miracle happened. But Father says that he doesn't know the answer, except the feeling that time it would happen. And told Leeza to do that and some kind of belief gathered inside him. And the event happened.
Crockett island is now a happier place than it was before. Church attendance has increased and people are now communing with the mass. In addition, Hassan and Ali are performing their Islamic ritual, Salah. Joe wakes up in jail again and shares a cup of coffee with the Sheriff.  We also see Bev putting away another can of rat poison! Now, what does she intend to do?
At church, you see parishioners are looking younger than before but Father Paul is not looking so good. He is sweating and stuttering when preaches. Then suddenly he collapses.
After that we see, Sarah comes to Father Paul's house and check on him, Bev also is there. Sarah advised him to take a rest and cancel his afternoon appointments with Riley for the day. But Father does not agree and he joins the AA meeting as scheduled. This evening the meeting got a new member, Joe. Because Leeza forgives Joe for what he has done to her. And they both get eternal peace inside. Thus Joe wants to confess and attend the meeting to become a non-alcoholic regular person.
There is an incident that happens in Hassan's house when he finds the Bible in Ali's backpack. He called a meeting at the school. Erin, Bev and several other people are there. The fact is, Bev is making it compulsory for every student of the school to read the Bible. Hassan is not happy with this. He showed an excellent & logical explanation about why school is not a place for religious learning. But Bev makes the conversation so nasty as always. Though Hassan says, they (Muslims) believe in Jesus as one of the former messengers from Allah who is known by Esha. So, every Muslim love Isa (or Jesus) but they believe there have been deviations in Christianity over time. So, Muslims love Jesus but follow their religion. Bev sails Hassan and says, "I learn new things."
Note: Mike Flanagan provides accurate information about the concept of Jesus in Islam by Hassan's speech.
Bev says, ''it is not the place to discuss the difference in religion." Hassan says, "Exactly. School is not for religion. And Bibles should not be given to the students, nor the Quran."
Then Bev makes her fake smile and indirectly says that if he (Hassan) tries to do this then she would probably run him out of the island. And the true miracle is happening on the island so everyone should learn from the Bible.
Erin tries to support Hassan several times but hypocritic Bev ignores her and the decision remains unchanged.
The AA meeting of Father, Riley, and Joe is nice. Joe feels lighter than before. Because Leeza forgives him. After the meeting, Riley and Joe walk some distance and Joe tells him that he is not a fan of Bev because of her money laundering event for the oil spoiling in the sea. Then Joe says that everyone hates Joe because of Leeza except her sister who died a few weeks ago on the mainland. He wishes to see her again!
On the other side, Ali wants to convert to Christianity, because of the miracle of Leeza. But Hassan says Ali's mother was Muslim and died of pancreatic cancer. She kept the faith while she suffered the horrors of the pain. Because she believed, God who creates all the creatures must love equally. When a miracle happens to a specific girl and others are suffering from unbearable pain, then that miracle is not from God. That is something else. But Ali does not change his mind.
Let's go back to Father Paul's story about Monsignor Pruitt.
On the first day, Father Pruitt lost from his other members and fell into the desert. A sand storm took him deeper in the desert. Suddenly he found a cave and took shelter. A mysterious creature attacked him and sucked his blood. The creature had two wings in its back, a rough-ugly nail, it was tall, and had a pair of scary bright eyes.
Pruitt almost died from the lack of blood. Somehow the creature felt empathy for Pruitt. It cut its own hand and fed blood to Pruitt. Then he lost consciousness. When he woke up the storm had stopped and the weather was shiny. But the amazement that he became a young person of age 25. All his pairs were worn-out. The creature was standing behind him.
Monsignor John Pruitt kneeled in front of the creature and began to say 'angel'.
Back to the present. Bev is talking with Wade & Dolly to arrange a dinner for Father Paul. Sturge was also working in the kitchen at that time. Suddenly, Paul enters through the door, collapses, and starts spitting up blood like Pike (Joe's dog who was poisoned). After a while, Paul becomes calm like lifeless matter. Wade checked his pulse and announced himself dead. Everyone starts crying except Bev.
After a few minutes without any warning, Father Paul Hill springs back to life. Everyone jumps scared of the shock. Only Bev says, "Monsignor! Oh, thank God! It's a miracle. It's a miracle."
Episode 3 ends here.
---
Recap of all episodes of Midnight Mass
Midnight Mass Book I Genesis (2021) S01 E01
Midnight Mass Book II Psalms (2021) S01 E02
Midnight Mass Book III Proverbs (2021) S01 E03
Midnight Mass Book IV Lamentations (2021) S01 E04
Midnight Mass Book V Gospel (2021) S01 E05
Midnight Mass Book VI: Acts of the Apostles (2021) S01 E06