Brainless Pen Rating!
---
Cast of Characters
| Actor/Actress Name | Character Name | Description |
| --- | --- | --- |
| Zach Gilford | Riley Flinn | Depressed and stressed man, son of Ed & Annie |
| Kate Siegel | Erin Green | Single woman and old girlfriend of Riley |
| Hamish Linklater | Father Paul Hill | New Prist of the Church |
| Samantha Sloyan | Bev Keane | Sister of the Church |
| Henry Thomas | Ed Flynn | Father of Riley & Warren |
| Kristin Lehman | Annie Flynn | Wife of Ed Flynn |
| Igby Rigney | Warren Flynn | Younger brother of Riley |
| Rahul Kohli | Sheriff Hassan | only lawman of Crockett island |
| Rahul Abburi | Ali | Son of Sheriff |
| Michael Trucco | Wade | Mayor of the island |
| Crystal Balint | Dolly | Mother of Leeza |
| Annarah Cymone | Leeza | Daughter of Mayor Wade |
| Annabeth Gish | Dr. Sarah Gunning | Doctor of the island |
| Alex Essoe | Mildred Gunning | Mother of Sarah |
| Ebony Booth | Tara-Beth | The girl who died for Riley |
| Robert Longstreet | Joe Collie | Drunk man |
Midnight Mass Season 01 Episode 05 Full Plot Story
* * * Spoiler Alert * * *
At the beginning of episode 5 Ed, Annie & Warren are talking about Riley, he hasn't come home for the past two nights. Warren says Riley has been spending a lot of time with Erin. They all take this as good for Riley. So, they assume he may be there for the last two nights.
On the other hand, Erin also didn't see Riley for the last two days. He was supposed to stay at her house that night but didn't come. Erin texted him several times but no response either. She worried too.
Bowl's mother comes to the Sheriff for reporting a missing diary. Let me remind you that Bowl is the person who was grabbed by something at the abandoned house. By the conversation of his mother and Sheriff, we know that his name is Bill, not Bowl. So, Bill has not been seen since that night.
At this stage, the Sheriff has two missing reports on his desk, they are Bill and Joe. Compared to such a small town which is very surprising.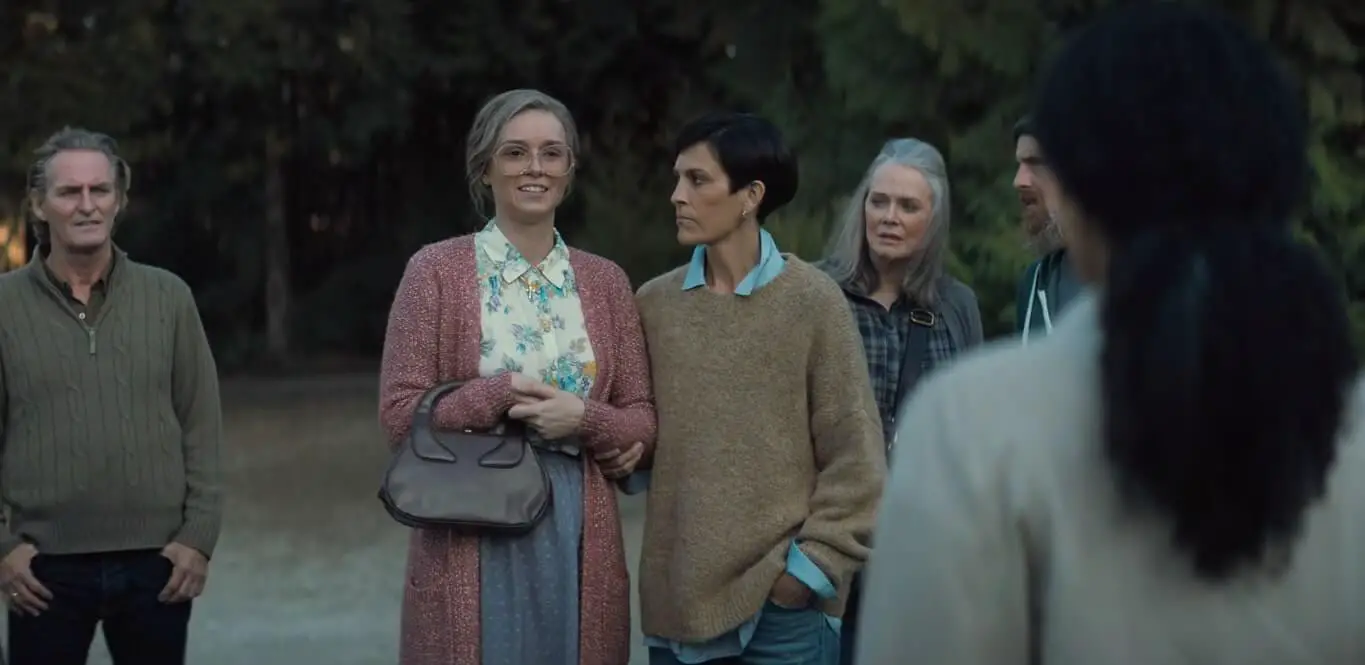 At St. Patrick Church Sturge is putting out a notice about the new schedule of Mass. Father Paul just needs another day of rest and the next Mass is scheduled at Friday midnight. Yes, there is no more morning mass in Crockett Island. From now the Mass of midnight begins.
Residents of the island gathered in front of the Church because they didn't know of the new notice. Sarah and Mildred also come to the Church for Mass and everyone is completely shocked to see Mildred. She is looking so young. Even though mother & daughter look the same age now.
Erin is trying to collect information about Riley. She goes to Annie and Warren to talk. Now she is scared. She goes to the Sheriff's office to report Riley missing. The sheriff takes this seriously because there are now three missing people on the island. But he has no clue, all of them just vanished.
On Good Friday, St. Patrick's Church is crowded. Following Dolly's talk about Jesus's entombment, Paul begins his sermon. It goes something like this:
Jesus gave his life that we might have eternal life. The price of eternal life is suffering. Despite the slogan of the US armed forces, God does not want you to fight for this country, because He does not have a country. Our fight should be for God's kingdom. Our duty is to be soldiers, and God's will change, he will ask us to do terrible things. Easter Sunday is only a happy day because it points to what comes next. "Welcome to God's army!"
It is clear that something big is about to happen on Easter Sunday.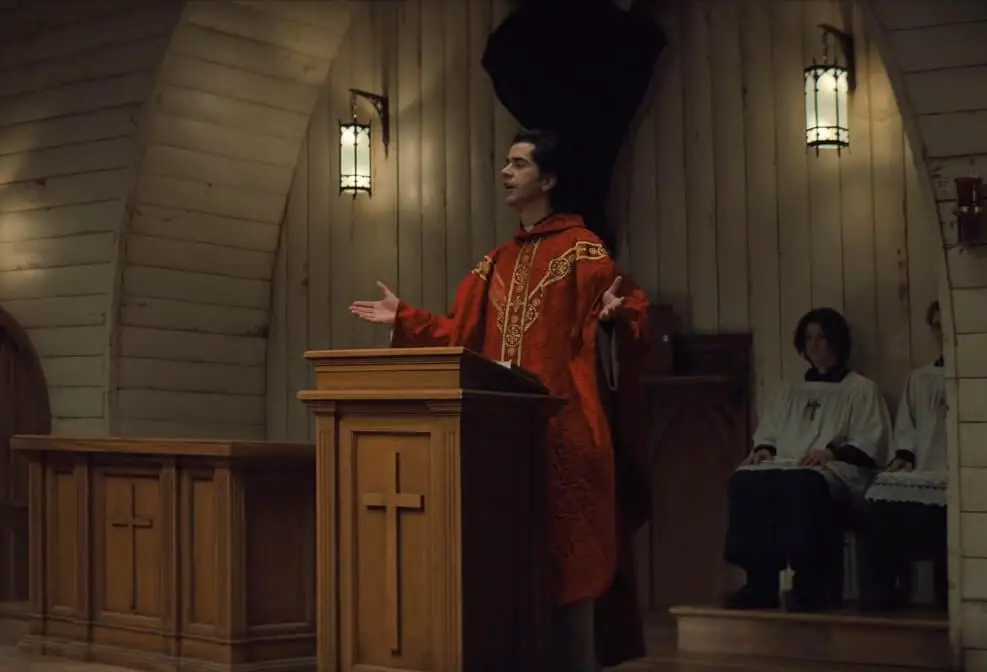 Mass is over and Mildred tells Sarah, "I don't want you going back there. That is not my church, that is not the man I knew."
Late at night, Erin is at the house. Riley comes to her. She is really upset with him because he doesn't return phone calls. Riley calms her down and yearningly asks for doing something for him. Erin agreed. Riley takes Erin in a boat and sails it to the middle of the sea.
Now Riley & Erin are sitting on the boat in the dark and Erin trying to figure out what's going on with him. "I'm going to tell you a story, but you won't believe it," he says. I just need you to listen, promise me that?" She becomes confused and says yes. Then we discover what happened after he was killed by the angel.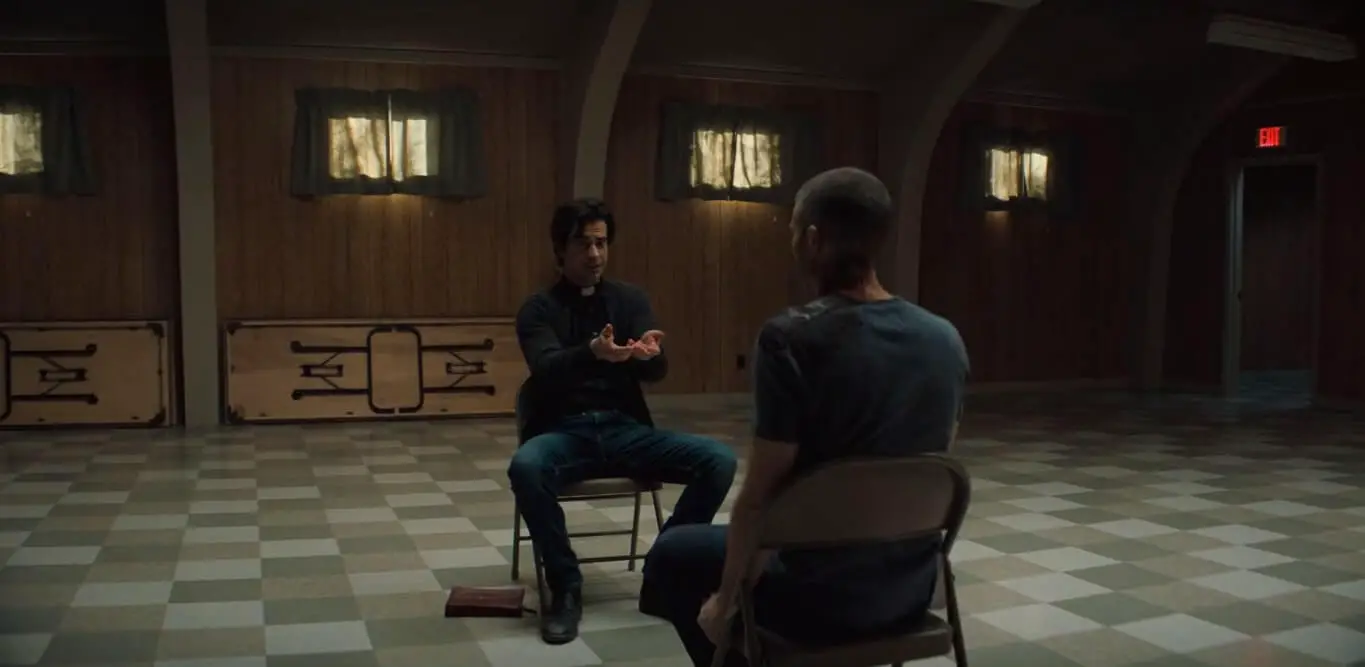 Riley woke up and saw Paul was trying to readjust his broken neck. It indicates that the angel was so brutal and broke his neck very badly. Riley was scared and tried to run outside. But as sunlight touched his skin it became burning. Paul pulled him back and said it took six hours to heal his neck completely but the burns will be okay in no time. Paul promises to Riley that he will explain everything with complete honesty.
Paul told him about the angel & Pruitt. He also tried to explain everything as God's will. Riley was confused but didn't expose. Riley became starving for blood, he was hungry. Suddenly Bev and Sturge entered the room and Riley realized that he was not the only person who knew the secret truth. There was a little group continuing dark activity behind everyone's eyes.
Whatever Sturge cut his own hand and Bev collected blood in a cruet and gave Riley to drink. Then Riley took human blood for the first time.
Bev and Sturge leave, and Paul tells Riley that the blood of the angel has brought blessings to the town. In fact, it's helped Leeza, Riley's parents…he asks Riley if he feels at peace, and he nods his head yes. Bev interrupts again to let Father Paul know that the sun has set and people are going to arrive at the church soon.
We see Riley's eyes shine like the eyes of the angel as he walks up to the church, looking at the lights and the way they swirl. Then he observes Mildred telling Sarah not to return to the church. Then he walks away and feels hungry again. Riley goes home and observes his parents sleeping for one last time before walking to Erin's house.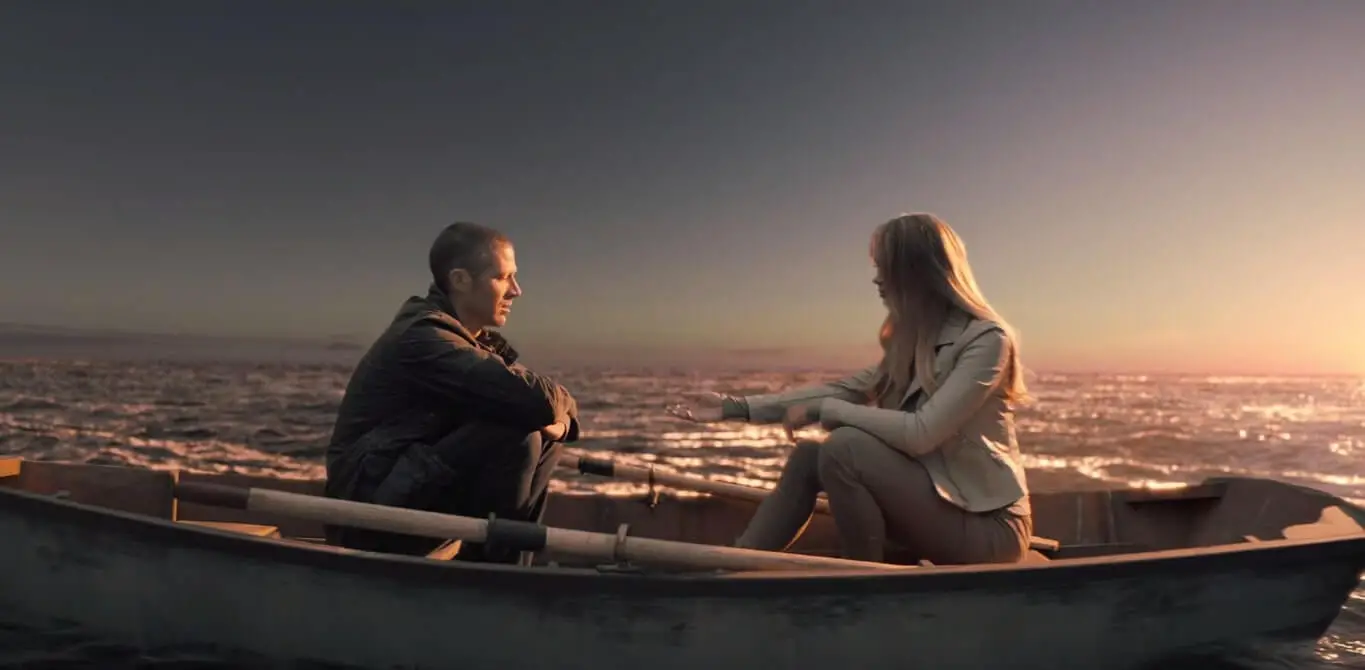 After all of these we back to the boat scene. Erin noticed that they are now in the middle of the sea and she has no way to go. She asked Riley what he needed from her? Because she believes Riley is not brought here to scare her.
Riley says that he brought them out there so he would have nowhere to go. He also says that she won't believe it unless see it happening. The sun will rise at any moment.
Riley says with tears of eyes, "I love you Erin Green. I loved you my whole life. One way or another." Erin also says from the heart, "I love you too."
Riley says, "I did my best."
The sun brightens, Riley closes his eyes, and he sees Tara-Beth sitting in Erin's place in the boat. She smiles at him and reaches out to hold his hand. Riley takes her hand.
Riley starts to burn. Erin screams. She watches him turn to ash. Erin Green screams again and again.
---
Recap of all episodes of Midnight Mass
Midnight Mass Book I Genesis (2021) S01 E01
Midnight Mass Book II Psalms (2021) S01 E02
Midnight Mass Book III Proverbs (2021) S01 E03
Midnight Mass Book IV Lamentations (2021) S01 E04
Midnight Mass Book V Gospel (2021) S01 E05
Midnight Mass Book VI: Acts of the Apostles (2021) S01 E06